Seren's Last Litter is HERE October 1st 2020!!  PHOTOS BELOW!!!    ***ALL SOLD***
 All the puppies in this litter are currently SOLD!  All puppy buyers must be approved by us prior to being on our reservation list. We are not taking any more reservations once our list is full below.If our list is full than you can be put on our waiting list and we will let you know as soon as possible if a spot is available. All puppies are sold with Spay/Neuter contracts and LIMITED REGISTRATION unless a private agreement,contract, and approval has been reached for FULL REGISTRATION. We do not hold puppies without deposits! If you have ANY questions at all feel free to contact us and we will be happy to answer them and/or help you!! We are a breeder that is a lifetime of support for you and your puppy/dog. All the babies in this litter are either Solid Fawn with White markings OR Solid White with Fawn markings,Gorgeous Litter!!!
Please Note: We reserve the right to keep ANY puppy we may choose from ALL of our litters AND we reserve the right to REFUSE ANY BUYER for ANY REASON at ANY TIME!
SEREN                         AND               ISAIAH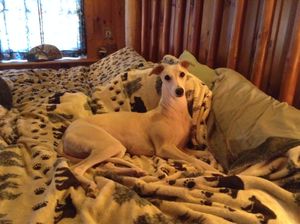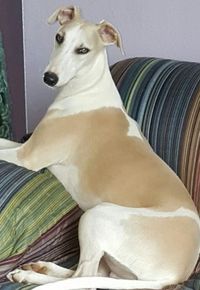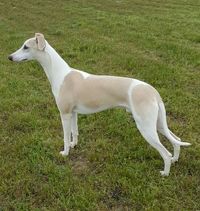 Reservation list for approved puppy buyers: When this list below is FULL you are welcome to contact us to be placed on our waiting list if any openings arise.ALL 11 babies are safely here, 6 GIRLS and 5 BOYS!! **SOLD**
FEMALES:                                                            MALES:
1. Breeder Hold "Autumn"                       7. Breeder Hold "Forrest
2. Jeanne-NJ (Willow)"Josie".                  8.  Nicole-NY(Rowan)"Dodger"
3. Juliane-NJ    "Maple".                           9. Jeff&Mary-CT(Jack)"Somer"
4. Brittany-Can (Apple) "Vienna".             10. Linda-NY (Rory)"Scout"
5. Ellen-NJ   (Pumpkin)                             11.  Pete-NY(Hunter)"Rocket"
6. Daniel-NY (Yamaka) 
The beautiful babies have arrived,6 Girls and 5 Boys and all doing great so far! Seren did a amazing job,she is tired but doing great and the most awesome Mommy as always!!Below are some pics of the first whelping photos and will post more this weekend and every weekend till they go home!! Stay tuned,more FALL Names to Follow as well.....with one little Hebrew exception added in...LOL...as always.......All the babies are either Solid Fawn with White markings OR Solid White with Fawn markings!
GIRLS: Light Pink("Willow"),Hot Pink("Pumpkin"),Light Purple("Apple"),Dark Purple("Maple"),Orange("Autumn") and Yellow("Yamaka")
BOYS:  Dark Blue("Rowan"),Light Blue("Jack"),Black("Hunter"),Red("Rory"),Dark Green("Forrest")
New Names:
Girls: Light Purple "Vienna"
Boys: Dark Blue "Rocket",Light Blue "Somer", Black "Dodger", Red,"Scout"
Update 11/22/2020 Well,this is it everyone,I finally get to meet you all in person starting in just 4 days!! I want you all to know how special you all are to me and always will be having one of my beautiful,special,sweet babies!! They all cant wait to meet you and give you kisses!! Please all drive safe,be safe! Remember,please all wear clean laundered clothes you havent been out in stores with.NO STOPS IF POSSIBLE! You will be asked to take your shoes off when you get here so you men....no "holy" socks...LOL  Any "kids" coming must wear masks at all times and cannot play with the puppies. This will all go fine and no worries here,we are all fine!! At home please try to have some Plain Probiotic Yogurt (We use Weis brand)on hand for feeding your baby,you will receive feeding instructions and your babies schedule in your puppy packs. Please do your very best to arrive on your scheduled time as everyone is scheduled 2 hours apart.There are a lot of babies to get home!!! I hope you all have a wonderful Thanksgiving,I so look forward to meeting you all in person soon!! Take good care of my baby,I know you will!!!  I am always here for you all if you need me!!! ((HUGS)) Beth       Moxie Whippets
Update:Well,we are in the home stretch....babies start going home in 10 days!! This coming up weekend will be the last updates and pictures till you are united with your beautiful babies!! They all are doing terrific,keeping me very busy and jumping!! Any of you who haven't set up a "pick-up" date and time yet please get in touch with me so we can set that up,Thank you! Look forward to finally meeting all of you in person!! Another quick note....as many of you know COVID is rising again in many areas esp NY State and NJ so please,ALL OF YOU,common sense, please be very careful Where you go,and Who you go around between now and when you pick up your baby. Use your protection when you go out.We here are always very careful as well,no worries. We all want babies to get home safe and sound with no complications. Also,NO STOPS along the way if at all possible before you get here. The house and Bathroom will be cleaned and disinfected prior to your arrival for anyone who needs to use it and in between every visitor. Be safe.....
Update: 5 weeks old already,can you believe it!! They are SO adorable its ridiculous!! Big week,they got their 3rd worming and nail trims,are playing with TOYS,are climbing out of the Whelping box on their own(when the door is open)to play in the puppy room.Today was a beautiful warm day and they got to go outside for a short time and play,what fun they had!! Came in and crashed!! LOL As you can see they are growing like weeds and getting more and more Gorgeous by the day! Enjoy photos,there are some great ones!!