Hope's first litter is here Jan.21st 2021!!  7 GIRLS and 3 BOYS!!    **ALL SOLD**
All puppy buyers must be approved by us prior to being on our reservation list. We are not taking any more reservations once our list is full below.If our list is full than you can be put on our waiting list and we will let you know as soon as possible if a spot is available. All puppies are sold with Spay/Neuter contracts and LIMITED REGISTRATION unless a private agreement,contract, and approval has been reached for FULL REGISTRATION. Our puppies for this litter this year are $1,500 and a $400 NON-Refundable deposit will "HOLD" one of our precious babies for you!! We do not hold puppies without deposits! If you have ANY questions at all feel free to contact us and we will be happy to answer them and/or help you!! We are a breeder that is a lifetime of support for you and your puppy/dog. All the babies in this litter are Solid Fawn with White markings!!
Please Note: We reserve the right to keep ANY puppy we may choose from ALL of our litters AND we reserve the right to REFUSE ANY BUYER for ANY REASON at ANY TIME!
                                                         HOPE                          AND                   ISAIAH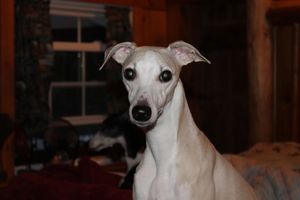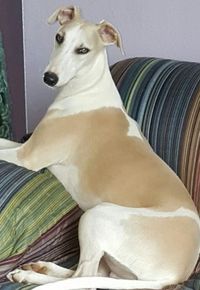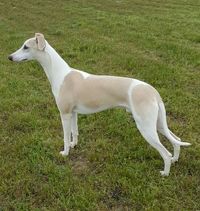 Reservation list for approved puppy buyers: When this list below is FULL you are welcome to contact us to be placed on our waiting list if any openings arise.We place a "Breeder Hold" on all our litters but if we do not end up keeping a puppy these spots may open up at a later time before babies go home.These lists below will be readjusted once our beautiful babies have arrived and we know exact numbers of each sex.The Beautiful babies are here!!! 7 GIRLS and 3 BOYS!! More photos soon!!   ***ALL SOLD***
                            FEMALES:                                          MALES:
1. Breeder (White,no collar)"Journey"   
2. Roseann-NJ (Light Pink) "Gracie"       1. Kurt & Adeline-CT (D. Blue) "Bo"
3. Jack & Kim-PA(Yellow)"Eve"               2. Jack & Kim-PA (Red) "Tate"
4. Angele & Brant-NJ(Lt. Purple)"Holly" 3. Josh & Lisa-NY(Dk.Green)"Isaac"
5. Peter & Elaine-MA (Hot Pink)"Gretchen" 
6. Gail & Martin-LI (Yamaka1) "Molly"
7. Gail & Martin-LI (Yamaka2) "Toula"
THIS JANUARY LITTER WE WILL DO "NEW YEAR'S" NAMES. TWO BABIES WILL STAY YAMAKA 1 & 2 FOR NOW and KNOWN OBVIOUS REASONS. THE REST OF OUR BABIES NAMES ARE DONE!
GIRLS: Hot Pink(Gretchen),Light Purple(Holly),Orange(Yamaka 1,Now "Molly"),Light Pink(Gracie), Yellow(Eve),White(Journey),and Tan (Yamaka 2,now "Toula") 
BOYS: Dark Green(Isaac), Red(Tate), Dark Blue(Bo)
Last Update 3/13/21: This will be your last update and Gallery and your babies will be with you soon!! Thursday was a big day for the babies. They all had their nails trimmed again,had their last worming,had their first vaccine,took the whelping box down so they have the whole puppy room to play now,and got to play outside on the nice warm day we had!! They had so much fun.We look forward to meeting you all in person soon.You will have all you need to get you started for your puppy and hope you all have your crates ready! When you come you will be asked to remove your shoes so all you men may want to make sure you don't have those holy socks on..LOL You can see the babies when you get here and then we will sit and go over your paperwork and contract as quick and painless as possible before you take your precious cargo home! I ask all to bring and wear your masks.You have no worries here,we are careful and fine and I EXPECT ALL who are coming have been careful and are fine as well,I am trusting that with you! I ask you ALL to PLEASE TRY not to make stops along the way or go to rest stops that are high traffic places. Our house will be completely cleaned before you get here as well as the restroom and in between anyone who uses it. So all relax and this will all go smooth and worry free.Please do your best to be on time for your appointment as there might be someone before or after you and everyone is scheduled 2 hours apart. Think that's it,SEE YOU ALL SOON!! Please ALL do remember,CASH ONLY for the balance of your puppy! SAFE TRAVELS!
Babies 7 weeks old!! LAST GALLERY!
UPDATE 3/6/21: Hello All....babies are very busy and active now,have us jumping! They all are doing terrific and weigh 6-7 lbs! They are learning to play gentle with each other and bite inhibition. I say with fond endearment the "Termites" are here!! LOL They are being given bigger and bigger play area and learning to "go to" their potty box.....this is when accidents happen and alot of constant supervision is required so they become more and more reliable with the use of their potty box. Nails are kept trimmed,they were wormed again....and most know their names now....even Journey! Next week will be our LAST UPDATE and Photo Gallery before you all come on your scheduled appointments to pick up your babies...can you believe that.....how time flies!! Look forward to finally meeting in person!! Update next week will have some "PICK-UP" tips/requests so make sure to check in,see you soon!!!
UPDATE 2/27: Babies are 5 weeks already,hard to believe!! They are eating like champs,growing very fast,had nails clipped again,wormed again,started stacking the 4 girls and Isaac I'm trying to pick from...LOL They are ALL just so beautiful and sweet...We have also been working on paper work for contracts and your puppy packs,just 3 weeks left,WOW!! I am starting to set up "Pick-Up" appointments from March 18th to March 20th so those who do not have a appointment yet give me a jingle when you can and we can get you scheduled with a apt that works for you! Any questions on anything you may need if I missed something or questions about anything call me please.Time is flying now and having so much fun playing,kissing,cuddling,and all else good and yuck that comes with these gorgeous babies!LOL Oh and so I do not forget,when you are looking at photos,TO THE END,"TOULA" HAS A SURPRISE FOR YOU!!! LOL
Update 2/20/21: Can you believe the babies are half way there already till they will be with you!! They are making huge gains now and growing fast! They are starting to "play" and make their adorable puppy noises and little growls,,,LOL They are loving their puppy mush 3 times a day now and all using the potty box! They all are so sweet,affectionate,loving and kissy,we are enjoying them so much!!  Enjoy new pics!!