++++++++++++++WE ARE CLOSED FOR FUTURE LITTERS+++++++++++
 PLEASE NOTE:  We only seek the very best most qualified homes possible for our babies!. WE SEEK THE FOLLOWING QUALIFICATIONS:
1. EXPERIENCED SIGHT HOUND OWNERS   
2. HOME OWNERS WITH FENCED YARDS
3. OWNERS WHO ARE HOME DURING THE DAY (NOT just because of Covid)
  THESE ARE MINIMAL REQUIREMENTS TO BE APPROVED FOR ONE OF OUR BABIES!!  We have unfortunately had to remove our phone number on the  "Contact Us" page due to relentless robo calls. Please email us and if you would like a return phone call leave your number for us to contact you.  All inquiries are welcomed!!
                                          Thank You,Moxie Whippets
Welcome to Moxie Whippets where we specialize in Quality Whippets, not Quantity. We are a very small family/hobby breeder, located in beautiful upstate NY near Binghamton.We are conveniently located not far from NY City,LI, CT,NJ,and PA. Our Whippets live in our home as full cherished family members first and foremost regardless of any potential breeding program and with the "Betterment of the Breed" being our primary concern for our Breed. Our Whippets are registered with AKC (American Kennel Club) and at times with UKC (United Kennel Club) as well and are or will be titled in conformation when it is possible and feasible to do so.Although showing is important to us and holds respect for doing so, it is not the end all be all to potentially breeding our dogs.In addition it is very time consuming and requires allot of traveling and monies for which we feel is better spent in the best care and health testing of our dogs.Whether a dog of ours is "titled" or not it will only be bred if we feel it is of the quality and "to the standard" to do so. Any dogs used in our breeding program will be fully Health & Genetically tested prior to breeding. Here at Moxie we are striving to be able to bring you the very best Whippets in Temperament, Health and Conformation.   Please take your time and enjoy browsing through MOXIE as we continue to add new and exciting pages,information and updates!
"Until one has loved an animal a part of one's soul remains unawakened."

~ Anatole France
"FAITH"
Our gorgeous foundation girl and start of Moxie Whippets.
Faith is now retired and spayed and gave us our beautiful Seren
Cardio&Cerf Normal
 
The Whippet by Douglas Florian

The Whippet speeds with ease and grace.
Few dogs can whippet in a race.
And it would make a wondrous pet,
Although I haven't caught one yet.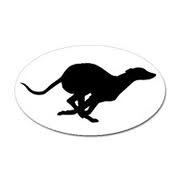 Please be patient as this WEB SITE is always under ongoing construction. Go to "Contact Us" for any further questions and info. Thanks For Visiting MOXIE WHIPPETS!
As a respected, reputable breeder of purebred Whippets, I do not support the cross-breeding of Whippets to any other breed.Therefore,We do NOT sell puppies to anyone producing ANY form of "Doodles" so,please don't ask!